Kerem Görsev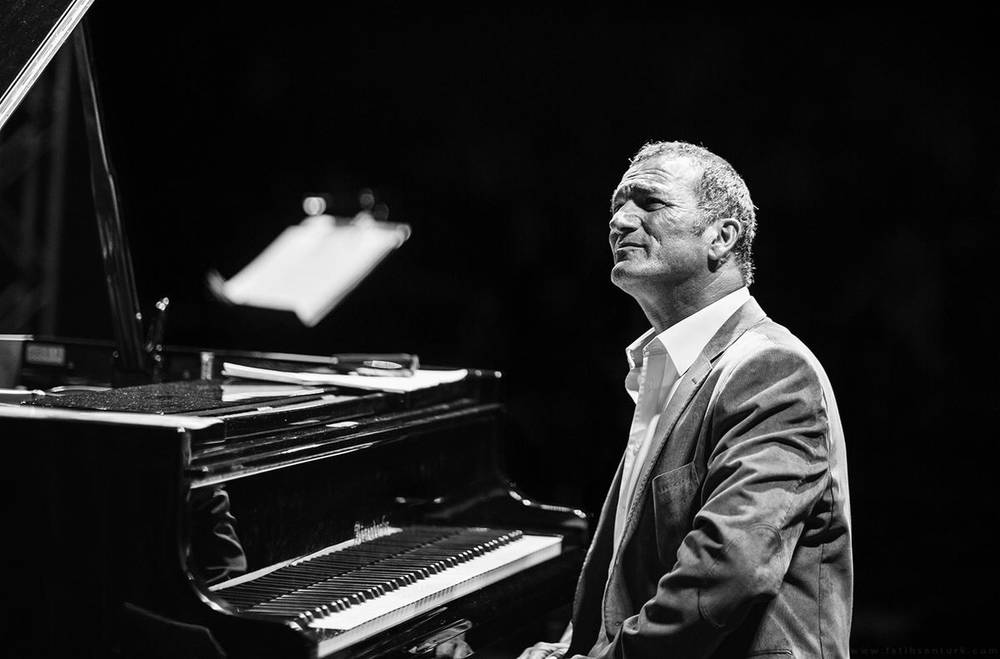 Kerem Görsev began his adventure in music at the age of 6 when he started studying piano at the classical music conservatory in Istanbul. He continued his musical education at the Istanbul State Conservatory for twelve years until he started to play jazz. His first admiration was for Parker and Miles. After this, he has always liked bop and bebop music. This influence has been persistent throughout his professional life. Kerem Görsev never fails to mention how good he feels when listening to Bill Evans.
In the early years of his career, he has performed at the various clubs in Istanbul both with Turkish and foreign musicians. He has performed in two concerts with Elvin Jones Jazz Machine in Eskisehir Festival in 1999.
Recognized as a talented composer and pianist, he has started his recording with his first album "Hands and Lips" in 1994. Since then, he has produced a total of 13 albums of his own. In his albums, he has explored a wide spectrum- ranging from his duo albums featuring American jazz standards to his orchestral album called "November in St.Petersburg" which consists of his own compositions and is recorded with the St.Petersburg Philharmonic Orchestra. In between lies Kerem Görsev's other albums recorded in the more traditional, classical jazz trio or quintet formats.
In 2001, Kerem Görsev recorded and released "Warm Autumn" in New York with Eric Revis Russell Gunn, JD Allen, Jason Jackson, Eric Revis, Alvester Garnett, and Kahlil Kewane Bell. This album was followed by a different concept album, "Existence" - a meeting point between jazz and classical music. In 2004, the artist recorded his next album "Meeting Point" with Russell Gunn, Eric Revis, Alvester Garnett and Marcus Strickland in New York. The album featured all his original compositions.
Kerem Görsev had many performances in Turkey and abroad since the early days of his career. In the past ten years, he has performed at various festivals, university concerts and organizations in many cities in addition to Istanbul including Trabzon, Antalya, Malatya, Isparta, Bodrum, Çeme ,Manisa and İzmir as well as international performances in Baku, Vilnius, Copenhagen, Muenster, Coesfeld, Stuttgart, Islamabad, Cyprus, Vienna, and Bologna .
Kerem Gorsev recorded two trio projects, "Orange Juice" and Diversion" in 2005 and 2009 respectively. He has also recorded and released a duo album with Allan Harris in 2007 called "Back Again". This album consists of jazz standards from 1940's and 1960's.
"Therapy" was his next album and it was recorded at Abbey Road Studios with London Philharmonia Orchestra, conducted by Alan Broadbent. "Therapy" features ten compositions by Kerem Görsev. Musicians on the album include Ernie Watts (tenor saxophone), Kağan Yıldız (doublebass), Ferit Odman (drums). It was released in December 2010.
Kerem Görsev recorded his next album "To Bill Evans" in Prague with City of Prague Philharmonic Orchestra conducted by Alan Broadbent and with Kağan Yıldız on the bass and Ferit Odman on the drums. The album consists of seven compositions by the artist, all arranged by Alan Broadbent. The recordings sessions were held on March 12th& 13th, 2013. This album was released in May 2013.
In October, 2014, Kerem Görsev recorded his quartet album "Emirgan" in Istanbul. Two time Grammy award winner Ernie Watts accompanied the artist for the album with Kağan Yıldız on bass and Ferit Odman on drums. The album consists of Kerem Görsev's nine original compositions. It was released in November 2014 both domestically and internationally. In 2015, Kerem Gorsev got together with Ernie Watts again after a tour of the album and together with Kağan Yıldız and Ferit Odman to record a second album in the same quartest format. This album , "Four Days", consists of the musicians compositions from his earlier work of 1994-1997 . It was released one year after the first one in November 2015.